More than 400 students are slated to present their research, scholarship and creative activities at the annual symposium, Feb 28-29.——————————————————————————————————————– 
Many of biochemistry professor Tom Huxford's students first believe science is something confined to the lab, restricted to a series of hypotheses, experiments and data sets.  
"They think a scientist is somebody who needs to be smart, who knows experimental techniques," Huxford said. "The truth is, that is not big enough."  
It's Huxford's job to teach students to think more broadly. Science starts with simple curiosity and critical thinking, he said, and isn't fully realized until the results are shared in the public arena, where they can be questioned, debated and expanded upon.  
That's the reason Huxford encourages students to attend and participate in San Diego State University's Student Research Symposium (SRS).  
"You have to communicate your results to the world and open yourself up to feedback," Huxford said. "Every opportunity that students have to stand up in front of a new group of people and communicate how they interpret the results of their carefully measured experiment is immensely beneficial." SDSU's 12th annual SRS will take place Friday and Saturday, Feb 28-29, at Montezuma Hall in the Conrad Prebys Aztec Student Union.  
More than 400 graduate and undergraduates students are registered to present  research, scholarship and creative works they completed under the tutelage of SDSU faculty members and mentors. The event includes visual and oral presentations, a keynote speech and an award ceremony with cash prizes.  
The symposium also serves as a venue for students looking to learn more about participating in undergraduate research and getting involved in a research lab.  
More than 30 student researchers in Huxford's lab have participated in SRS over the last 15 years. For many, the experience has been critical in gaining confidence as a budding scientist. Students learn how to quickly and effectively present their work to broad audiences that span disciplines, an essential skill when interviewing for graduate schools and jobs in industry.  
Citlayi Villaseñor has presented her undergraduate research at 10 scientific conferences, including SRS. She was nervous at first, but has come to enjoy presenting.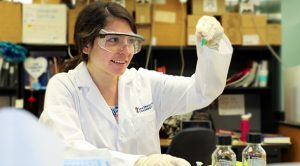 "These presentations have helped me improve my scientific storytelling and learn how to convey my research so people are engaged and understand my results and why they are important," she said. "I feel more and more confident each time I present." 
The biochemistry major studies novel antibodies that use calcium to bind to molecular targets like DNA. Chemists are just beginning to understand how these antibodies work, and Villaseñor says working to unlock their mystery has cemented her interest in biochemistry. She is in the midst of applying to graduate school and plans to present her work again at the upcoming symposium.  
"Explaining science is pretty hard, but getting practice in a non-stressful environment where people want you to succeed is really helpful," she said. "You can't really lose anything from attending or presenting at SRS, you can only learn from it."
——————————
The original article can be found HERE by Kellie Woodhouse.