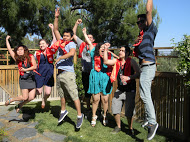 A free service provided to SDSU students. The Center is located in the Love Library, Room LLA 1103.
Housed in the Love Library, the Tutoring Center is a pilot project funded by the Provost Office. Visit them on the 4th floor. Also visit the Mathematics and Statistics Tutor Lab in the Mathematics Department for additional tutoring services. Tutoring services are offered in the Love Library, Physics Building, Room 147A and GMCS 422.
Under the division of Student Affairs, the Testing Office serves students by administering paper and pencil as well as computer based tests for the purpose of admission and class placement, as well as providing other test-related services. The Testing Office is located in Student Services West, Room 2549.
Check out this pamphlet from the Committee on Institutional Cooperation (CIC), an academic consortium of 12 research universities. Learn more about finding your right match, debunking common myths, understanding what to look for in a program, funding your graduate coursework, and a lot more!
The SDSU Career Services provides a variety of services including helping you to develop the career management and networking skills you'll rely on for a lifetime of career success.