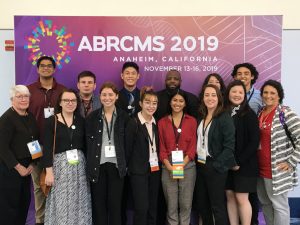 The Annual Biomedical Research Conference for Minority Students (ABRCMS) is one of the largest communities of underrepresented minorities in science, technology, engineering and mathematics. This year, ABRCMS was held at the Anaheim Convention Center from November 13th to the16th where over 2,500 students from over 350 colleges and universities participated in poster and oral presentations in twelve STEM disciplines.

All undergraduate and post-baccalaureate student presentations are judged and those receiving the highest scores in each scientific discipline are given an award during the closing banquet. This year, eighteen San Diego State University (SDSU) undergraduate students travelled to Anaheim, CA to present their research. Of the more than 393 presentations made over the four-day conference, three scholars from different programs within the Center for the Advancement of Students in Academia (CASA) at SDSU were recognized for the research in their discipline. Each student received an Outstanding Poster Presentation Award along with a monetary prize.
Two MARC scholars were among the recipients of this award:
Christopher Oyuela, a mechanical engineering major, won for his poster entitled, Synthesis of Novel Two-Dimensional Graphene-like Nanomaterials for Catalysis and Energy Applications" presented his research from his summer research experience at NYU. Chris currently works in the lab of Dr. Khaled Morsi where he focuses on creating Tri Hybrid Bioimplant Materials through implementation of foaming agents in hopes to improve material processing and properties.
Viraj Upadhye, a biology major and graduating senior, won for his poster entitled, "Designing probes for real time tracking of heterochromatic epigenetic mark H3K9 me3" Viraj presented his research from his summer research experience at UCSF. Viraj works in the lab of Dr. Christal Sohl where he studies the mechanistic properties of Isocitrate Dehydrogenase 1(IDH1) by creating various mutations of the enzyme and assaying it kinetically.
Every year, students attend this conference to present their research, enhance professional development skills, explore graduate schools, and network. Viraj shared with us "ABRCMS was an experience like no other. This was the first time I have been to a national conference and I was amazed by the number of people and schools that were present. I had the opportunity to talk to graduate students in the various programs I am applying to as well as learn about programs I had never even heard of. I did not expect to win an award at all and I was honored the judges found my presentation worthy. Without the MARC program, none of this would have been possible. Being selected for the MARC Program has shaped my undergraduate experience and set me up for success in my career. I have been afforded multiple opportunities to present my research which has strengthened my skills as a scientist in the lab but outside as well. If I am accepted into a Ph.D. program I know it was because of MARC and the amazing support system I have been so fortunate to have".
We congratulate Chris and Viraj on their outstanding achievement and express our appreciation to their mentors and their lab teams for the support and guidance they provide to our MARC scholars. On behalf of the MARC program, we also congratulate Esteban Delgado, an IMSD scholar for his award and achievement.