SDSU's IMSD (Initiative for Maximizing Student Development) and MARC (Maximizing Access to Research Careers) are two National Institutes of Health-funded undergraduate training programs with the shared mission of promoting increased diversity in the STEM workforce by helping undergraduate students from underrepresented backgrounds gain admission into Ph.D. programs. IMSD and MARC work toward this mission by sponsoring professional development workshops that help prepare students from diverse backgrounds for success in graduate school and beyond.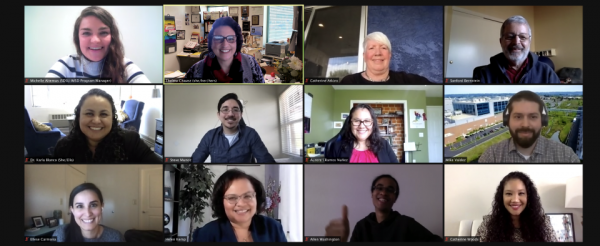 IMSD & MARC hosted their annual STEM Post-Ph.D. Panel on March 12, in which eight alumni of IMSD, MARC and similar student support programs under the CASA (Center for the Advancement of Students in Academia) umbrella at SDSU shared their experiences of earning a Ph.D. and navigating entry into the workforce. The panelists represented a broad range of scientific disciplines and career pathways to match the diverse interests of the undergraduate and graduate students who attended.

Panelists responded to 10 of the most commonly submitted questions from registered attendees before transitioning to discipline small breakout rooms for further discussion. The panel questions covered a variety of topics including initial interest in and exposure to scientific research, tips for succeeding in graduate school, striking a healthy work/life balance, and deciding on the right career upon completion of graduate studies.
The Post-Ph.D. Panel is consistently one of the most popular professional development events hosted by the IMSD and MARC programs. This time, over 60 students from the Colleges of Science, Engineering, and Health and Human Services participated, held in a virtual setting.

Beyond the impressive turnout, an overwhelming majority of participants who completed the post-event survey reported positive outcomes including increased familiarity with different career paths available after graduate school (100%), increased knowledge of ways to prepare academically for specific careers (97%), and increased knowledge of ways to personally prepare for specific careers (98%). Some 91% of survey respondents also reported they were able to network with colleagues and/or panelists during this event.