Math is magical to Diana Lee, a Computational Science PhD student at SDSU. And her journey to her first first-author paper identifying links between the shape and genes of viruses is just as remarkable.
Even as a kid growing up in Los Angeles, Lee loved calculus. After high school, she fell into an 18-year career as an auditor, applying her interest in math to data analysis in health care and information technology.
While working, Lee enrolled in classes at San Diego City College, hoping to earn a degree to move into a new position. Twelve years and two kids later, she finished two associate degrees and transferred to San Diego State University, majoring in biology.
Life-Changing Summer
Then one day, she met Antoni Luque, a Mathematics & Statistics associate professor and one of the leaders of the Bio-Math group at SDSU's Viral Information Institute (VII).
"I worked for Dr. Luque for the summer on a lark," said Lee, adding that she was terrified to quit her day job to pursue research, but took a chance anyway.
And the risk paid off. With a few nudges and invaluable support from the Initiative for Maximizing Student Development program, she set her sights on graduate school.
After earning her bachelor's degree in 2016, Lee chose to stay on with the VII because of their healthy sense of fun.
"To me, it's important to do really good work and then go have a beer after," Lee said.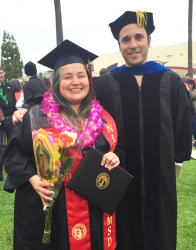 Persistence to Publish
Lee admits her time in graduate school hasn't been all fun and games. In her second semester as a Computational Science PhD student, she battled pneumonia and struggled to keep up in the advanced math classes. When the pandemic started, she had to balance working from home while homeschooling her youngest child.
During the hardest moments, she read obsessively and reminded herself that she "could do hard things" as she continued to chip away at what she fondly calls, "the paper that almost killed me."
That "killer" paper was published in January of 2022 which followed up on the research she had done in her first summer with Luque on bacteriophages – viruses that infect bacteria.
With data on hundreds of tailed phages, the largest subgroup of bacteriophages, Lee refined a machine learning algorithm called a "random forest" which can predict which features of a virus's genome determine the shape of its shell.
"Random forest shouldn't work. I showed a computer a bunch of pictures and was able to follow the map it made based on those," Lee said. "It never ceases to seem magical to me."
As a proud Chicana woman, Lee is excited she gets to answer very practical questions with her favorite subject. "It will always stay magical; you have crazy, obscure math and it describes how real things work."
Original Article can be found here