Author: Padma Nagappan
Nalani Coleman always knew she wanted to investigate diseases, especially cancer, so she found out about a research internship offered through the Partnership Scholars Program which has opened many doors for her. Now a junior, she works in San Diego State University biochemist Christal Sohl's lab, studying how an enzyme mutates and leads to cancer. In a different area, senior Miriam Maldonado works with public health professor Elva Arredondo on community health interventions to promote colorectal cancer screenings. Both students have family members who had cancer. That led to their personal interest in the program, which aims to develop the next generation of underrepresented researchers devoted to solving cancer health disparities.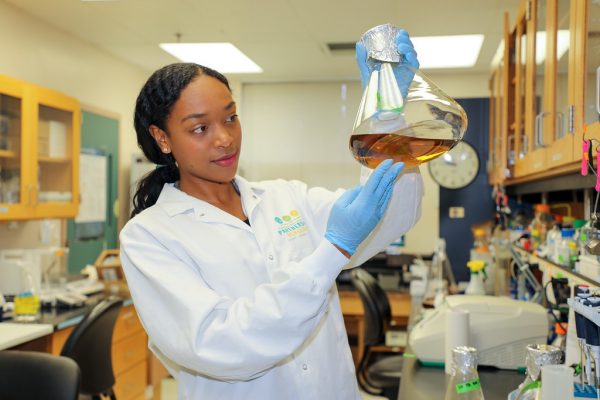 "I'm the first in my family to go to college, so I had to figure things out on my own," Coleman said. "It's hard to picture yourself doing scientific research when you don't have family members in such fields. I joined Partnership Scholars because I wanted to see what it actually looks like, and I think it opens doors and gives me a better idea of what I want to do." The program accepts undergraduate student applicants who are the first generation to attend college, are an underrepresented minority, from a socioeconomically disadvantaged background, or have a disability. Gain confidence and growth.

Program coordinator Mercedes Quintana-Serrano vets applications and works with faculty to organize workshops, training sessions, and mentoring. Students present their research at poster sessions and work on acquiring science communication skills and the ability to read scientific papers. Having worked with two cohorts of students, Quintana-Serrano has "seen them go from being shy to being passionate about publishing research, getting lab jobs, joining other programs and starting graduate school. It has been amazing to see them grow from this one year of research experience." Maldonado works with Arredondo whose research focus is on community interventions to reduce health disparities in the Latino community. Arredondo examines intervention and implementation strategies to prevent cancer and ways to promote cancer screening. Under her guidance and with support from the Institute of Behavioral and Community Health program managers, Maldonado helped collect data from health centers serving low-income patients to assess barriers and facilitators to colorectal cancer screening programs. She also analyzed interviews with patients to identify factors influencing their decisions about screening including cultural and religious beliefs, the influence of health professionals, and the role of luck and chance.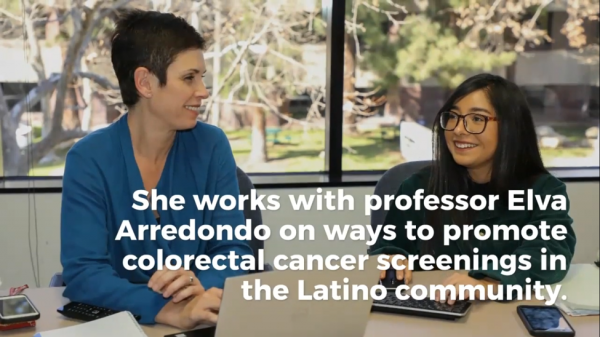 Mentor influence – Initially, Maldonado said she felt intimidated when starting the internship because her mentor typically works with graduate students and Ph.D. candidates. "I thought I had to speak at a high level, but over time, I got comfortable speaking with her and Dr. Arredondo always provides me with good advice and mentoring," Maldonado said. She also received help with her graduate school application from a master's student 'buddy'. The buddy system is a familiar practice in research labs, but in this program, students are mentored by buddies from similar backgrounds to show them such career paths are possible. As an undergrad, Maldonado had the distinction of having her study abstract accepted to be presented at a conference and will be the lead author on the paper. The Partnership Scholars program will fund her travel to the conference, as well as her graduate school application.
Coleman sought out Sohl to ask about opportunities in her lab even before she applied to the program. "I wanted to have a female mentor so I could relate to her," Coleman said. "Her lab is diverse, and Dr. Sohl's research really stuck with me." In her lab, Coleman learned how to use some of the advanced equipment and instruments from graduate student mentors. She works on characterizing variants of the isocitrate dehydrogenase enzyme using kinetic assays and a spectrophotometer. The enzyme interests Sohl because when it mutates, it produces a toxic chemical that can lead to tumors. She is looking to produce novel mutations in the enzyme to see how that affects production of the chemical. "I like working on this because it's a critical piece of research that helps us to better understand this enzyme," Coleman said. "Dr. Sohl is an awesome mentor, she spends time with us every week to ensure we stay on track. She works with us on goals for each week and goes over what went right and wrong." Many students who go through the program decide to pursue careers in research. Coleman plans to apply for a Ph.D. in cancer and stem cell research. Maldonado plans to pursue a master's in public health and then a Ph.D. and work with community organizations.

Collaborative internship – Funded by the National Cancer Institute (NCI), and led by Roland Wolkowicz, the training program is part of a collaboration between San Diego State University and the University of California, San Diego, under the umbrella of the SDSU/UCSD Moores Cancer Center Partnership, which works to reduce the burden of cancer among Latino communities in San Diego and Imperial Counties. Through the partnership, SDSU received a five-year grant for nearly $6 million, ending this year. A five-year renewal proposal, with principal investigators Hala Madanat and Richard Cripps, is pending.

Open to both SDSU and UCSD students, the program has a competitive application process where up to 45 students apply for 12 coveted spots each year. Sophomores, juniors and rising seniors interested in cancer research from the biomedical, public health, social and behavioral perspectives can apply.

It starts with a nine-week summer internship that comes with a stipend and 35 hours per week commitment, and continues through the academic year when students commit to 10 hours per week and continue to receive a stipend.
_______________
The original article can be found HERE by Padma Nagappan
Students interested in undergraduate and graduate research opportunities at SDSU can visit research.sdsu.edu to learn more.