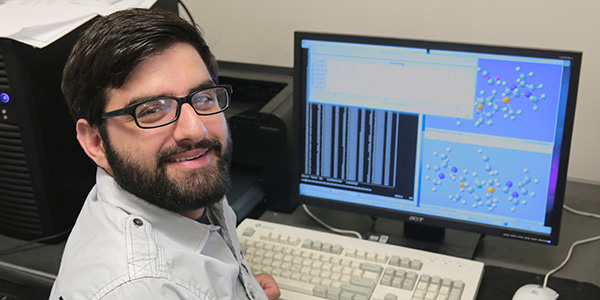 Name: Babgen (Bobby) Manookian
Program: MARC
Major: Chemistry
Mentor: Andrew Cooksy, Ph.D.
Research Area: Molecular Modeling and Vibrational Analysis of the Alkyne-Vinylidene Isomerization on a Heterocyclic Ruthenium Catalyst.
Personal Website: https://sites.google.com/site/manookianb/
Babgen Manookian was appointed as a MARC fellow July 2014. His major is Chemistry with a minor in Physics. He is currently conducting research in Dr. Andrew Cooksy's Computational Chemistry Lab. focusing on the use of computational methods to analyze vibrational dynamics of molecular systems and observe change in molecular structure. Babgen plans to apply to graduate school and pursue a Ph.D. in Physical Organic Chemistry. He also wants to start a career in a place where he can teach and conduct research. One of his goals is to share what he has learned with people from different parts of the world.