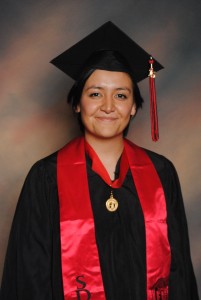 Biology, Psychology
Alicia Zamudio graduated in 2015 from San Diego State University (SDSU) receiving her B.A. in Biology and B.A. in Psychology. Alicia knew she wanted to pursue a doctoral degree since entering college, as inspired by her grandfather.
As a first generation to college student who was born in Mexico, Alicia has faced many challenges and obstacles. With support from programs funded by the National Institutes of Health, the National Science Foundation, the Department of Education, and the CIRM program, she was able to conduct scientific research as an undergraduate in the fields of virology, neuroscience, epigenetics and RNA biology.
In 2012, Zamudio attended the Society for Advancement for Chicanas/os and Native Americans in Science (SACNAS) Conference as a Ronald E. McNair Scholar and as part of the Initiatives for Maximizing Student Development (IMSD) Program. She was one of three SDSU IMSD scholars recognized for outstanding undergraduate research in their disciplines at the conference. In addition, she was one of five students in May of 2015 to be recognized at the Mortar Board Honors ceremony.
She received the Frank Hydoski Scholarship to assist her in her research projects and was honored with the College of Sciences Student of the Year during the 2015 commencement. In the summer of 2013, Alicia worked at Massachusetts Institute of Technology (MIT) as an intern and then stayed as a visiting student in the spring and summer of 2014. Currently, she is a Ph.D. student at MIT in the biology department.